Cheshire Pet Shops and Services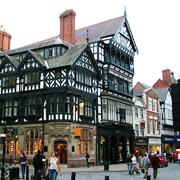 Narrow your results: browse for in Cheshire towns:
Chester, Stockport, Warrington, Widnes.
Located in North West England, Cheshire has several major towns within its boundaries. These include Crewe, Runcorn, Macclesfield, Northwich, Wilmslow and Warrington – the largest town of all. Many of these areas have modern shopping facilities including many pet shops, vets, pet societies, training classes and breeders.
Charlie and Derek's Dog Treats are hand made in Stockport using the finest healthy ingredients, with many happy customers all over the UK.
The extensive selection of Cheshire pet professionals offer many different pet services within the county. These range from designer dog and cat accessories supplied by Aristopaws, to Friends For Life Pet Store in Stockport that sells a superb choice of pet food and pet related accessories. Clever Mutts in Bunbury offer many different services such as pet sitting, dog walking and various training courses.
FEATURED BUSINESSES

Homemade in Cheshire from wholesome and human-grade ingredients.
Read more about Charlie & Derek's Dog Treats >>
POPULAR BUSINESSES
Suite 102, Courthill House, 60 Water Lane, Wilmslow, Cheshire, SK9 5AJ
08450 949 249
Unit 7 & 8, Pennie View Estate, Shepley Lane, Stockport, Cheshire, SK6 7JW
0161 427 0487
Bunbury, Cheshire, CW6 9RN
07941 905114
Unit 4H, Bramhall Moor Technology Park, Pepper Road, Hazel Grove, Stockport, Cheshire, SK7 5BW
0844 414 3122
13 Compstall Road, Romiley, Stockport, Cheshire, SK6 4BT
0161 494 0629
55 High Street, Sandbach, Cheshire, CW11 1AL
01270 762404
Online Only, Widnes, Cheshire, WA8 6HR
07788 268668
Astbury House, Parkgate Road, Chester, Cheshire, CH1 6JS
07778 869291
150 Lovely Lane, Warrington, Cheshire, WA5 1PH
01925 574307
OTHER BUSINESSES
Andale Veterinary Centre

Ditchfield Road, Widnes, Cheshire, WA8 8RF
0151 423 1388
Bobbytails Bunny Boarding

Church Farm Bungalow, Sealand Road, Chester, Cheshire, CH1 6BS
01244 881247
Chester Pet Supplies

23 Market Hall, Princess Street, Chester, Cheshire, CH1 2HH
01244 327600
Clockface Kennels

The Cottage, Finger House Lane, Widnes, Cheshire, WA8 3XE
01744 411788
Contact Pets

9 The Parade, Chester, Cheshire, CH1 5HN
02144 377442
Culcheth Veterinary Surgery

487 Warrington Road, Warrington, Cheshire, WA3 5QU
01925 764088
Discount Pets

2 Deanery Way, Stockport, Cheshire, SK1 1NA
0161 429 8181
Groom Room

Mount Pleasant Close, Chester, Cheshire, CH4 8BJ
01244 683031
Landoncraft Pet Foods

20 Nazareth House, Widnes, Cheshire, WA8 8UE
0151 420 5972
Leeroys Lizard Lounge

154 Padgate Street, Warrington, Cheshire, WA1 3SP
01925 259008
Limestar Tropicals

Limes Farm, Holme Street, Chester, Cheshire, CH3 8EQ
01829 740333
Noahs Ark Pet Supplies

Widnes Market Hall, Bradley Way, Widnes, Cheshire, WA8 6UE
0151 423 5205
Oscar Pet Foods

112 Shearwater Road, Offerton, Stockport, Cheshire, SK2 5UX
0161 456 2246
Pads Paws & Claws

61 Stockport Road, Marple, Stockport, Cheshire, SK6 6AA
0161 427 0111
Poachers Pets & Aquatics

23 Poachers Lane, Warrington, Cheshire, WA4 1TP
01925 659237
Poochini

140b, Chrisleton Road, Chester, Cheshire, CH3 5TD
01244 565588
Queens Avenue Pets

29 Queens Avenue, Widnes, Cheshire, WA8 8HR
0151 420 4566
Spoodles Pet Grooming Salon

21 Farnworth Road, Warrington, Cheshire, WA5 2RZ
07988 613075
The Dogs Pad Boarding Kennels

Higher Knutsford Road, Warrington, Cheshire, WA4 3JY
01925 267134
The Pet Centre

7 Retail Market, Bank Street, Warrington, Cheshire, WA1 2EN
01925 631616
The Reptile World

2 Gladstone Street, Widnes, Cheshire, WA8 6PH
0151 424 3737
Toffany Chihuahuas

Cheery House, Heath Road, Chester, Cheshire, CH2 1HX
Waggy Tails

11a Reddish Road, Stockport, Cheshire, SK5 7HP
0161 637 7790