Hoppies Doggies
(1 review)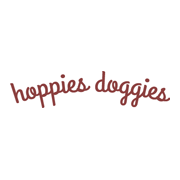 Address
55 High Street, Sandbach, Cheshire, CW11 1AL
Telephone
01270 762404
Contact
Send an email to Hoppies Doggies now >>
About
Hoppies Doggies is a family-run business based in Sandbach, Cheshire. They sell a selection of puppy and dog training products, and are always looking for new items to add to their ranges. Specialising in products for dogs, they sell lots of teaching equipment such as lanyards, whistle sets, bird calls, leads and slips as well as harnesses and dog tethers.
The business offers cusstomers a great selection of chews and treats from various makers. Customers can also find a choice of dog beds plus feeding and water bowls in several sizes. As a local company with local values, Hoppies Doggies only sell products that they can offer a back-up service for.
This business is the sister company to the gun makers H G Hopkins & Sons who have been trading in the sporting field for over 40 years. If you would like a product that you cannot see, simply contact Hoppies Doggies by phone or email to see if they can order one for you.
Find Hoppies Doggies on these pages:

Location: Cheshire
Categories: Dogs