Drontal Worming Tablets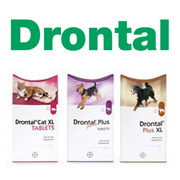 Every pet owner knows that worms in a dog or catís intestine can cause a great deal of discomfort and suffering - and most vets will recommend that regular treatment of your pet will make sure the problem is kept well under control. Drontal worming tablets are very well known as one of the best and easiest methods to use, and often only one tablet every three months will be needed to ensure a healthy cat or dog.
With many different types of worms that can cause problems for dogs and cats, Drontal worming tablets are guaranteed to kill the worm with just one dose. Cats that spend a lot more time outdoors than their cousins which spend all day lounging on the pet sofa are likely to be reinfected more often, and owners need to be aware that only one Drontal worming tablet is required each time treatment is deemed to be necessary.
As dogs vary in size, larger dogs may need to be treated with Drontal Plus XL to cater for their heavier weight and size. Thereís also a Drontal puppy oral liquid for easy use with the most junior members of the litter. Roundworms, Tapeworms, Whipworms and Hookworms can all be killed effectively and quickly with Drontal worming tablets.
RECOMMENDED CATEGORIES

A visit to the vet will be an inevitable part of animal welfare, pet medications are also available from a number of other online sources and outlets. Check them out here.
Visit the Medication category >>

Whilst new products are notoriously hard to bring to market, here we celebrate some companies that have been successful.
Visit the Pet Products category >>