Puchi Shops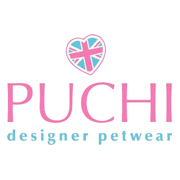 As a leading company in the creation and manufacture of designer pet products, Puchi Petwear understands that their customers only want the best for their adorable pets. By following trends in high street fashion, Puchi is constantly changing their products to reflect the latest catwalk sensations. Listing Victoria Beckham and Elton John amongst their customers, Puchi Petwear is clearly at the cutting edge of the newest lifestyle or craze.
Listing doggy t-shirts, hoodies, dresses, coats and knitted jumpers in their clothing collections, Puchi also have a stunning selection of leads, collars, harnesses and ID tags to suit almost any colour combination. An eclectic range of dog toys plus specially baked doggy treats are 'must have' accessories for all the best looked after pooches.
Bed time is just as important for animals as humans, so why shouldn't they be treated to a luxury Puchi Petwear dog bed. Some even have luxurious sheep skin linings! If it's time to go out and be shown off, what better way than in a Puchi pet carrier? Like the clothing, these are colour coordinated for maximum effect. Watch out for new product releases from this brilliantly inventive dog accessory company.
RECOMMENDED BUSINESSES

Luv Dogs
Designer dog apparel, collars, leads, and dog soft toys as well as luxury dog beds.
Read more about Luv Dogs >>