Hill's Pet Food Shops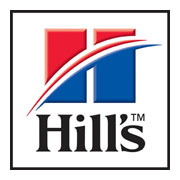 Established in 1939, Hill's pet food is one of the most popular brands on sale in the UK. Their 'Prescription Diet' and 'Science Plan' lines are full of all the right nutrients to satisfy any puppy or adult dog, and any kitten or adult cat. Each pack is designed for the age of the animal, as well as its weight and size, and Hill's ongoing programme of research into additives and formulations means that your favourite pet is assured of a correctly balanced diet.
The high quality ingredients and an antioxidant formula in each pack are all designed to ensure that Hill's 'Science Plan' pet food is amongst the best you can buy. If a pet is unwell, the 'Prescription Diet' ranges can help with a whole series of problems or diseases such as dermatology problems, mobility issues and urinary conditions as well as renal disease or obesity.
Another of Hill's pet food products is the 'Science Plan Vet Essentials' – only available from approved vets, it is especially formulated to help with teeth, digestion and skin or coat problems. There are thousands of outlets all over the UK that sell great selections of Hill's pet food – pet shops, garden centres, pet supermarkets and even online retailers that can offer fast delivery.
RECOMMENDED CATEGORIES

Whether you're after a goldfish, pet food, cages or accessories, these general pet shops will be able to help.
Visit the General Pet Shops category >>

With millions of pet animals in the UK, it's no surprise that there are also a huge number of specialist pet food shops to service their needs.
Visit the Pet Food category >>

Whilst new products are notoriously hard to bring to market, here we celebrate some companies that have been successful.
Visit the Pet Products category >>