Pet Transport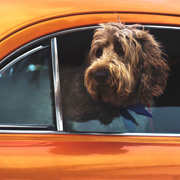 Most pet owners will want to transport their family pet themselves, but sometimes this may not be practical, and a large numbers of pet transport courier companies are based all around the UK to take care of your animal, and move it safely to its destination. This may even include overnight stops if long distances are involved such as a move abroad to a different country. Some will recommend road, others air, but all will take the very best care of their animals.
All pet transport firms will advise pet owners on the best methods of moving animals, and some will even be members of the Independent Pet and Animal Transportation Association (IPATA). This pet shipping organisation is internationally recognised and its members can organise animal carrying anywhere in the world. If customers want to move their cat, dog, parrot, hamster or reptile, there's plenty of pet transport companies that can help.
People that need to move their animals will always be concerned about travel conditions, documentation if travelling abroad, pet passports or even whether an animal needs sedating during a journey. Professional pet transport firms will always be able to reassure their customers, and ensure that owners and their pets both have a stress free trip.
BUSINESSES