EzyDog Shops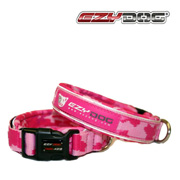 Having started out in 2001 by inventing the original dog leash with shock absorbing rope, EzyDog has grown into a huge company that supplies its pet accessories to countries all over the world. An impressive list of EzyDog pet products includes collars, leads, harnesses, backpacks and life jackets as well as lots of toys and accessories. Only when they have submitted their products to rigorous testing are they thought ready to be introduced to the market.
Just like humans, dogs come in all shapes and sizes, so itís no surprise to find a range of EzyDog collars in sizes ranging from small to XXL. Many of them are lined with neoprene which is not only warm and comfortable, but virtually rot proof in either salt or fresh water. The collars are also thoughtfully designed with reflective strips built in to aid visibility at night or low light conditions, and are even available in pink!
No self respecting dog would want to be seen being led by an inferior lead, so EzyDog leads are designed to be practical as well as fashion conscious. Most dogs love to run and catch something thrown by their owner, and so EzyDog have developed a range of frisbee type products that will keep dogs happy for hours on end. Check out online and traditional pet shops all over the UK for this great range of well designed EzyDog pet products.
RECOMMENDED CATEGORIES

Whilst new products are notoriously hard to bring to market, here we celebrate some companies that have been successful.
Visit the Pet Products category >>