KONG Pet Shops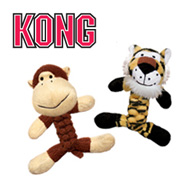 Based near Denver in the USA, the KONG company was born in 1976. As with most clever inventions, the idea of KONG products came about almost by accident. The super-strong rubber formulation has been transformed into a series of tough toys for both dogs and cats.
Resistant to strong teeth and jaws, dog products like the KONG dental stick, puppy flyer and extreme goodie bone are all popular sellers. Squeaker tennis balls and activity balls as well as the classic Wubba toy also add a lot of fun and pleasure to a dog's life. Cats particularly like the KONG Kickeroo range of softer products that have built-in tails for extra fun - their gentler mouths love the feel of the soft fabric outer covering.
Popular with cat and dog owners because of their strength and longevity, KONG pet toys and other products can be bought from almost any specialist pet shop or pet products website. Customers can also send KONG photos of their animals playing with KONG toys, and the best ones may be added to the picture gallery.
RECOMMENDED CATEGORIES

Whilst new products are notoriously hard to bring to market, here we celebrate some companies that have been successful.
Visit the Pet Products category >>