Equine Shops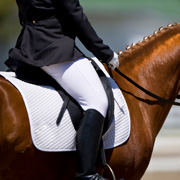 With over a million horses in UK ownership, it's not surprising that a huge equine industry has evolved to support the owners and their animals. From a child's pony to a hack or a thoroughbred racing horse, they all need constant care and attention including the right diet and exercise regime. There are hundreds of different horse breeds throughout the world, and examples of some of the finest offspring can change hands for huge sums of money.
For amateur riders the cost of keeping a horse can be daunting, although local stables often offer products at discounted prices. Horses ridden in the countryside, on bridle-paths or roads all need the right equipment. These include items such as saddles, rugs, bridles, halters and stirrups, not to mention a good supply of bedding straw plus fresh food and water. Horse riders usually require jodhpurs, jackets, footwear, helmets and other protective clothing such as reflective arm bands.
Special show wear for Gymkhanas or other distinctive events is an important part of the summer horse show spectacle. Like most sports, the equine world is driven by popular brands. These include Ariat who arguably make the world's finest riding boots and Mountain Horse, suppliers of a huge selection of technical and casual clothing. There are hundreds of other equine brands, although many offer both deluxe and less costly equipment and clothing ranges to suit all budgets.
BUSINESSES