James Wellbeloved Shops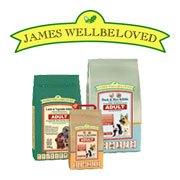 Well known as one of the UK's leading suppliers of pet food, James Wellbeloved has developed its ranges beyond dog food to include cat food, ferret food and a special assortment of dog treats. They proudly use only the finest natural ingredients and do not include any artificial preservatives, colours or flavours. After constant research, James Wellbeloved pet food is free of anything that pet animals may be intolerant of such as beef, pork, dairy products, eggs, soya or any wheat or wheat gluten – this makes the food hypo-allergenic.
Many shops in the UK sell James Wellbeloved dog and cat food which is trusted by millions of pet owners to provide just the correct nourishment levels for their animals, and the continual high quality of the food makes it a popular choice. A selection of James Wellbeloved dog food includes formulations especially suitable for puppies, and includes turkey, duck or fish flavours as well as rice and vegetables. Cats and kittens are just as lucky with some great formulas, all designed to be gentle for the digestion.
It shouldn't be hard for pet lovers to find plenty of shops selling James Wellbeloved hypo-allergenic pet food, and even ferrets are well catered for with a tasty high protein mix of turkey and linseed to help with coat conditioning. Other natural raw materials used in the preparation of the pet food include sugar beet, cranberries, oats, olive oil, carrots and peas.
RECOMMENDED BUSINESSES

Fluffy Paws Pet Supplies
An independent pet shop that supplies a huge choice of pet products including food.
Read more about Fluffy Paws Pet Supplies >>