Wafcol Dog Food Shops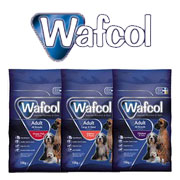 Known as Wafcol, the Worcestershire Animal Food Company was founded in the 1930s, and under new owners has continued to develop its high quality specialist pet food ranges ever since. Popular as a sensitive dog food, each mix uses the minimum amount of ingredients to help avoid allergic responses in the animal.
As customers would expect, Wafcol pet food is made in many alternative formulations beginning with puppy food. This is available in packs that suit small and medium dogs, or a different variation for large and giant dog breeds. As the dog grows they'll move onto the adult food in three tasty recipes! Pensioner dogs will be pleased to know that Wafcol pet food senior packs are perfect for their age, and take account of different dietary requirements.
Wafcol dog food also includes a light version that contains 50% less fat than the standard type and is perfect to help with weight loss. Thousands of dog owners choose Wafcol food for their pet's main meals, and with many owner's testimonials on their website, and constant product development, Wafcol dog food is well known as amongst the most nutritious you can buy.
RECOMMENDED CATEGORIES

With millions of pet animals in the UK, it's no surprise that there are also a huge number of specialist pet food shops to service their needs.
Visit the Pet Food category >>