Royal Canin Shops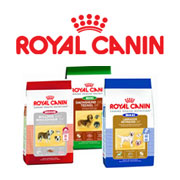 Royal Canin pet food for dogs and cats is amongst some of the best animal food that pet owners can buy. Their nutritional value is based upon a petís needs, and the various mixes take account of the age of the animal as well as the size, breed, activity and lifestyle. Development and research into new formulations is constantly taking place and Royal Canin is proud that they are often the first pet food maker to introduce new formulations as a result of the latest scientific research.
Almost unique among pet food suppliers, Royal Canin produces breed-specific pet food and is constantly introducing new dog breeds into their ranges. These already include Poodle, Yorkshire Terrier, Chihuahua, Dalmation, Rottweiller and many more. The shape and texture of the kibble has also been adjusted to take account of different breeds. The standard range of Royal Canin dog food can be purchased in several different selections to take account of a dogís weight and size.
Shops selling Royal Canin pet food can be found all over the UK - and with such a large choice of types it should be easy for the pet owners to find exactly the right one for their animal. The cat food follows the example set by the dog food varieties, and some of the formulations even take account of whether a cat has long or short hair, is fussy, stays indoors all day long, or is an outdoor hunter! As with the Royal Canin dog food, there are breed specific cat food for Persians, Siamese and many others.
RECOMMENDED CATEGORIES

Whether you're after a goldfish, pet food, cages or accessories, these general pet shops will be able to help.
Visit the General Pet Shops category >>

With millions of pet animals in the UK, itís no surprise that there are also a huge number of specialist pet food shops to service their needs.
Visit the Pet Food category >>