Kronch Shops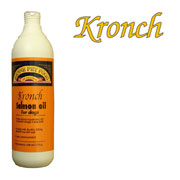 By recognising the importance of fish oil in a dog's diet, Kronch's salmon-based pet food is rich in vitamin B and other completely natural nutrients. Kronch salmon oil, food and treats are proven to help dogs keep a glossy coat and healthy skin – not just working dogs but puppies, gun dogs and even cats. All Kronch pet food is hypo-allergenic and therefore contains no products that will irritate or upset an animalís digestion system.
Kronch salmon oil pet food is divided into four main categories – Basic, Main, Active and Optimal, each one carefully mixed to provide the right nourishment for different breeds and sizes of dogs. Various treats such as Lakse Kronch and Pemmikan high energy bars are used to supplement the regular Kronch dog food, and are perfect for dogs that are full of energy and need plenty of exercise.
Kronch salmon oil and salmon products can be purchased online or through a network of approved Kronch shops – these include independent and multiple pet shop retailers as well as places like large garden centres. Continual research means that new products are constantly being developed for the millions of satisfied dogs who benefit from a Kronch feed system.
RECOMMENDED CATEGORIES

With millions of pet animals in the UK, itís no surprise that there are also a huge number of specialist pet food shops to service their needs.
Visit the Pet Food category >>

Whilst new products are notoriously hard to bring to market, here we celebrate some companies that have been successful.
Visit the Pet Products category >>