Johnson's Veterinary Pet Products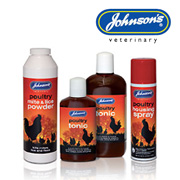 Johnson's leads the way with modern, innovative pet healthcare products to the OTC (over the counter) market, making them available exclusively to pet shops. Johnson's Veterinary pet products have been supporting the pet & garden trade with a range of leading pet healthcare products since 1921 and continues to develop new products and new treatments.
Johnson's acclaimed 4fleas range of Veterinary strength flea treatments is a great example of innovative products designed to combat the common problems faced by pet owners - all available from the pet shops they turn to for advice. Johnson's portfolio includes ranges for dogs, cats, small animals, cage birds and poultry, and features medicines, healthcare products, flea & worm control, disinfectants, shampoos and treats. 2009 saw the Johnson's range of pet health care products confirmed as the UK's No. 1 with their major brand names still leading the way.
The "Top 10 best sellers list" for the pet trades leading national wholesalers, showed that Johnson's again dominated in the health care sector claiming 7 out of the top 10 best selling lines. Johnson's Veterinary products are exclusive to pet shops and garden centres - Johnson's understand the relationship between pet owners and their pet shop, as it isn't always about convenience shopping.
RECOMMENDED CATEGORIES

Whether you're after a goldfish, pet food, cages or accessories, these general pet shops will be able to help.
Visit the General Pet Shops category >>

Whilst new products are notoriously hard to bring to market, here we celebrate some companies that have been successful.
Visit the Pet Products category >>