Mr Johnson's Shops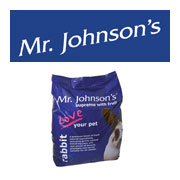 With millions of pets of all different sizes kept in the UK, itís no wonder there are a considerable number of specialist pet food makers and suppliers. One of the most popular pet foods are the ranges sold by Mr. Johnsonís, who supply food for anything from hamsters or gerbils up to animals the size of horses! Naturally different breeds of animals such as dogs all require slightly different formulations, and with Mr. Johnsonís pet food, owners can be sure of finding exactly the right mix for their particular animal.
For example, the dog food is formulated differently for working dogs, companion dogs, puppies or energetic adult dogs, and even the rabbit mixes include different ingredients to suit many diverse breeds. Rats and guinea pigs are also well catered for with their own Mr. Johnsonís pet food, and hamsters will just love the mix of sunflower seeds, monkey nuts and locust beans that provide the perfectly balanced diet!
Mr. Johnsonís pet food can be bought in a huge number of specialist pet shops throughout the UK, as well as garden centres and in veterinary practises. With the ranges specially developed for horses they really do offer a complete solution for pet loving homes and farms.
RECOMMENDED CATEGORIES

Whether you're after a goldfish, pet food, cages or accessories, these general pet shops will be able to help.
Visit the General Pet Shops category >>

With millions of pet animals in the UK, itís no surprise that there are also a huge number of specialist pet food shops to service their needs.
Visit the Pet Food category >>