Burgess Pet Care Shops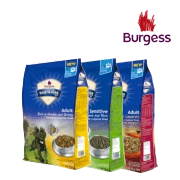 Well known as a supplier of premium pet food, Burgess is a wholly owned British company based in Yorkshire. Their brands of pet food that include Supadog, Supacat, Excel and Supahamster are sold in pet shops and pet supermarkets all over the UK, and are popular choices amongst millions of pet owners. Supacat for example comes in several different tempting flavours that include chicken & duck, Scottish salmon, and even turkey & cranberry for the mature adult.
A selection of treats for your hamster, chinchilla, rabbit or guinea pigs are also sold by Burgess pet food shops – what little animal wouldn't love a wild apple and carrot treat or even some berry bites to encourage chewing. Complementary food such as Timothy hay is full of fibre, and fresh forage barn dried grass is a great way to keep dental and digestive health at its peak.
Proudly saying that they are the 'UK's No.1 vet-recommended food for fibrevores' Burgess are continually researching new and better ways of improving their superb pet food and make it even better. Burgess also proudly supports the work of the many animal rescue centres that are situated all over the UK, and can also help current pet owners who are looking to re-home an animal.
RECOMMENDED CATEGORIES

Whilst new products are notoriously hard to bring to market, here we celebrate some companies that have been successful.
Visit the Pet Products category >>