Burns Pet Food Shops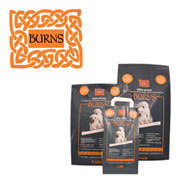 Burns is a specialist pet food producer that makes a fantastic range of food for many different pet animals. If your favourite pet is a dog, cat, guinea pig or rabbit, Burns will have something to suit, and with specialities like dried carrot treats, dried dandelions or dried meadow mix flowers, these will supplement the diets of a large variety of pets.
Burns dog food is specially formulated in different varieties to suit puppies, adult dogs, working or even overweight dogs. These mixes ensure the best combination of ingredients to provide all the nourishment required by your favourite pet dog. Shops selling Burns pet food vary between garden centres, independent specialist pet shops and sometimes in the multiple pet stores, and some customers may even like to buy online.
Similar to the dog food, Burns cat food can be bought in varieties suitable for kittens or adult cats and in several different flavours – not all cats like just chicken or fish! If some animals prefer a moist food to the dried variety, Burns can supply that too. Normally sold in sealed pouches, these are perfectly packaged amounts to suit most breeds of dog.
RECOMMENDED BUSINESSES

Fluffy Paws Pet Supplies
An independent pet shop that supplies a huge choice of pet products including food.
Read more about Fluffy Paws Pet Supplies >>