Vets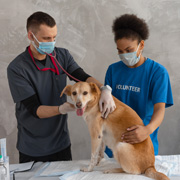 Every animal owner will need to visit a vet at sometime or other during their pet's life, and as a consequence, there are thousands of vets practices situated in every town throughout the UK. A vet will have undergone more years of training than a doctor to be able to cover the huge number of different animals that they may be asked to see – a pet cat has very different symptoms and potential problems to a pet budgie or pet pony for example.
A vets services will go far beyond just making an animal better if they've been ill – they can advise on skin, teeth, ear or feet conditions, and will often spend time looking at the 'whole' animal rather than just the particular problem. All vets will be members of the Royal College of Veterinary Surgeons, and cannot administer treatment unless they have passed all of their exams.
After training, a vet will normally specialise in looking after small animals or larger farm animals, and many vets practises will have a combination of the two. As with human care, some vets will become veterinary surgeons who are able to perform complex operations on a wide range of animals.
BUSINESSES