Naturediet Shops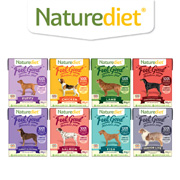 By taking a holistic approach to manufacturing dog food, Naturediet wet dog food is guaranteed to be free of preservatives, artificial ingredients or any unpleasant and harmful chemicals. Most Naturediet pet food packs contain 60% meat as well as vegetables, brown rice and herbs – this makes them absolutely perfect for dogs with allergies, or who are just generally fussy eaters.
A useful chart on the Naturediet website helps owners to gauge how much food to feed their fast growing puppy or adult dog, and with a great choice of basic meat formulations, it should be easy for owners to find the one that suits their dog the best. Choose from Naturediet dog food chicken, lamb, rabbit with turkey or even salmon and prawn for the more sensitive dogs.
Naturediet shops can be found all over the UK with a mix of traditional 'bricks and mortar' outlets that are supplemented by the increasing number of online retailers. Manufactured in a purpose built factory in Norfolk, Naturediet dog food is mixed to provide the best balance of ingredients to keep dogs healthy and fit.
RECOMMENDED CATEGORIES

With millions of pet animals in the UK, it's no surprise that there are also a huge number of specialist pet food shops to service their needs.
Visit the Pet Food category >>