Naturediet Shops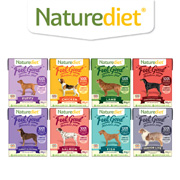 Naturediet is an award-winning independent UK dog food manufacturer. The delicious Feel Good and Purely ranges are expertly balanced and carefully created to provide optimal nutrition from essential, limited ingredients. The 100% natural recipes are gluten free, nutritious, tasty and complete.
Lovingly made in Norfolk, Naturedietís food only uses high-quality and freshly prepared British ingredients. Naturediet are proud to be the first UK dog food manufacture to specialise in recyclable cartons as an alternative to plastic trays, pouches and cans.
The company are proud of their honest labelling ethos and promotion of valid claims.
RECOMMENDED CATEGORIES

With millions of pet animals in the UK, itís no surprise that there are also a huge number of specialist pet food shops to service their needs.
Visit the Pet Food category >>