Pet Cremation & Burial Companies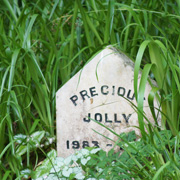 Sadly, pets don't normally live as long as their human owners, so all pet lovers will be faced with the vision of a well loved pet dying, and the prospect of holding a pet funeral or cremation. The Association of Private Pet Cemeteries and Crematoria was established in 1993 to inform pet owners of the services available when the loss of a best friend occurs.
Like humans, pets can be buried or cremated in specially built crematoriums that are situated all over the UK – some can even offer gardens of remembrance and memorials such as trees, bushes or plaques to mark the passing of that favourite pet animal. This service can be offered to any pet animal, not just a favourite cat or dog – some can even offer help with a pet pony or horse. If an animal has been buried on private ground, some pet funeral organisers can even exhume and rebury elsewhere. Woodland pet burial sites are also available in parts of the UK, and are a 'green' option that may be worth considering.
Grief and bereavement counsellingis another service offered by many pet cremation firms. They understand that the loss of a much loved pet can be as traumatic as that of a member of the family, and people in need of help are encouraged to get in touch with one of these specialists.
FEATURED BUSINESSES

A beautiful pet crematorium offering a range of services throughout South Wales.
Visit Summerleaze Pet Crematorium Now >>
BUSINESSES