Frontline Flea Treatments for Pets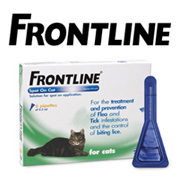 As one of the best known flea treatments for dogs and cats, Frontline provides a long lasting solution to the irritating problem of ticks and fleas as well as helping to control biting lice. Whilst the basic version can be bought over the counter and is suitable for dealing with adult fleas, the advanced version treats fleas in any stage of development and can only be dispensed by a vet or other suitably qualified person.
Frontline flea treatment is supplied in two different forms to suit different cats or dogs. The pipette method is perfect for treating specific skin or fur areas of your animal, whilst the Frontline spray treatment can be used to treat the whole animal and provides effective control for up to five weeks. Frontline flea treatment for cats can be used on all breeds, and is manufactured in just one size of pack.
As dogs vary enormously in size, Frontline for them is made in four different packs – small for dogs of 2-10kg, medium for dogs of 10-20kg, large for dogs of 20-40kg and extra large for those dogs in the 40-60kg weight group. All dog and cat owners can be sure that Frontline flea treatment for their pets is effective and cost efficient.
RECOMMENDED CATEGORIES

A visit to the vet will be an inevitable part of animal welfare, pet medications are also available from a number of other online sources and outlets. Check them out here.
Visit the Medication category >>

Whilst new products are notoriously hard to bring to market, here we celebrate some companies that have been successful.
Visit the Pet Products category >>