Benefits of Joining Pet Shop UK
Any business that is part of the pet or animal industry is welcome to a free listing in his specialist business directory. The chart below shows the two different types of listings available.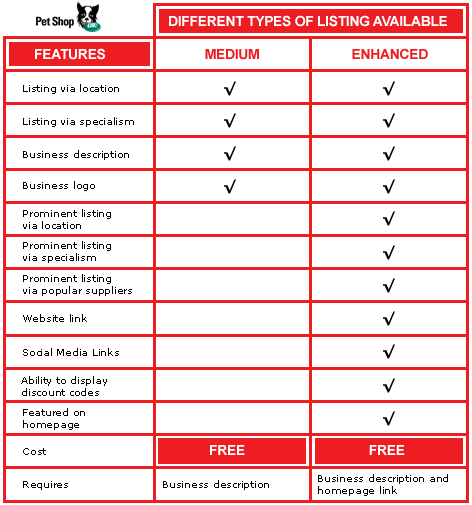 In summary:
Medium listing
This enables bricks-and-mortar sports shops to quickly get their store listed on the most relevant location page. This ensures that people looking for sports equipment in your area will be able to find your details fast.
Enhanced listing
This option is designed for pet businesses that are looking to increase traffic to their website. Not only does does this type of listing include a website link, but it also substantially increases your prominence throughout the directory.
Please allow at least 20-minutes to provide us with a high-quality description of your business. The more time you spend on this, the more likely your listing will attract our visitors.
Please note that we do not allow descriptions to be copied from your own website or other marketing materials. You must write your unique description directly into our submission form.