Options Pet Products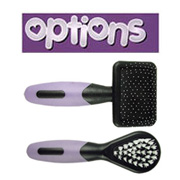 As a major supplier of many pet accessories, Options pet products are sold in hundreds of pet shops throughout the UK in both traditional and online outlets. Pet grooming products are some of the most popular Options items with claw and nail clippers, coat brushes and combs being a small selection of their huge range.
Options pet carriers are some of the best designed on the market, and it's no wonder that they are so popular. Moulded in strong coloured plastic, they're easy to clean and also offer a number of different ways of opening and closing to suit different animals. A range of sizes are suitable for the smallest cat or dog right up to the largest animal that can be carried in one hand.
Options harnesses and leads, pet car sun shades, dog, rat or chinchilla cages, and even dog back packs are just a few more items in the extensive Options ranges. Trusted by pet owners everywhere to offer excellent value for money as well as items that are designed to stand up to prolonged hard use, Options pet products are some of the best available.
RECOMMENDED CATEGORIES

Whilst new products are notoriously hard to bring to market, here we celebrate some companies that have been successful.
Visit the Pet Products category >>