Pet Bloggers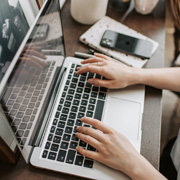 The popularity of blogs (web logs) has seen a significant rise since the late 1990s when web publishing tools became widely available to users unfamiliar with programming techniques. Widely used by animal lovers, pet blogs can offer an intriguing look behind the scenes at owners' personal pet experiences, and many allow visitors to post comments or even add their own images.
Whatever your favourite pet, someone will almost certainly have set up a blog that covers a breed or, in many cases, an individual animal. Any animal subject is covered – training, diet, names, insurance, care and basic pet owning common sense are all interesting topics. Some pet blogs are written by qualified people who want to help others with advice; others are set up to help a charity that may specialise helping animals in rescue centres to be re-homed.
If anyone wants to share their pet experiences with the rest of the world, a pet blog is a great way to start. Whilst social networking sites can be useful in this respect, there's nothing quite like owning your own site and customising it in exactly the way you want – and talking about your favourite cat, dog, hamster, horse or lizard.
BUSINESSES