Eukanuba Shops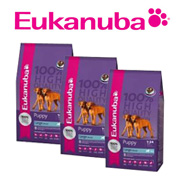 By focussing all of their efforts on producing just dog food, Eukanuba have developed what they consider to be the best nutritional quality food that pet owners could buy for their favourite dog. By developing a huge choice of products that are tailored specifically for a dog's age, activity or even breed type, Eukanuba dog food lives up to its slogan of 'Make a Good Dog Great'.
All over the UK there are hundreds of traditional and online pet shops selling Eukanuba dog food – all of the packs are specially formulated to provide exactly the right balance of nutrients. The specific breed selections include Labrador, Rottweiler, Cocker Spaniel and Jack Russell, whilst other types are focussed on puppies, adults or seniors. Some dogs prefer formulations that are created from naturally wild products such as salmon, barley or rice, but whatever Eukanuba dog food pack you choose you can be sure that only high quality ingredients are used in the manufacturing process.
Most of the Eukanuba pet food formulas include FOS, a prebiotic to improve your dog's immune system. As the very first pet food company to include this in their dog food packs in 1994, Eukanuba continue to develop and improve all of their dog food formulations to make sure that they are at the forefront of any new scientific research.
RECOMMENDED CATEGORIES

Whether you're after a goldfish, pet food, cages or accessories, these general pet shops will be able to help.
Visit the General Pet Shops category >>

With millions of pet animals in the UK, it's no surprise that there are also a huge number of specialist pet food shops to service their needs.
Visit the Pet Food category >>

Whilst new products are notoriously hard to bring to market, here we celebrate some companies that have been successful.
Visit the Pet Products category >>