Hurtta Shops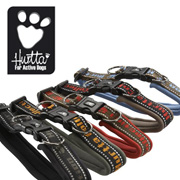 Often thought of as some of the best dog pet products available, Hurtta manufactures a superb selection of merchandise that covers sizes to fit over 200 different breeds of dogs. Collars, harnesses and leashes are just the beginning of a whole series of Hurtta pet products that are sold in dozens of countries around the world. The collars are lined with neoprene for superb comfort and durability, and matching selections of leashes are all colour co-ordinated with the collars.
An assortment of Hurtta dog coats covers almost any eventuality, and with Ďeasy to fití coats that keep out the rain or cold, itís possible to take your favourite pet out for a walk or run in almost any weather conditions. A selection of dog owner Hurtta outdoor clothing has been specially designed with interesting features such as large pockets for treats, a sleeve in which to store poop bags, and even a pocket to store some favourite pet toys.
Shops selling Hurtta dog products can be found online, or in traditional shops and garden centres around the UK. Constant research into new materials and manufacturing techniques keeps Hurtta near the front of the pack of companies that manufacture pet products, and by continually checking breed sizes they will always guarantee to supply products that fit your animal properly, as well as being comfortable for the dog and the owner.
RECOMMENDED CATEGORIES

Whilst new products are notoriously hard to bring to market, here we celebrate some companies that have been successful.
Visit the Pet Products category >>