Danish Design Shops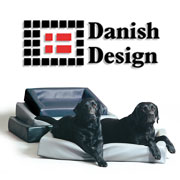 Danish Design pet beds and accessories are recognised by thousands of pet owners as some of the best that money can buy. Designed by Susanne Mortensen of Copenhagen, all the products are produced in West Yorkshire to very high standards, as well as being practical and stylish. Made in a vast selection of styles and fabrics, there's a Danish Design dog bed that will suit the muddiest working dog to the most cosseted pet.
Designs vary from cushion beds, fleece blankets and fibre beds to personal igloos or snuggle beds. The company also makes a range of dog accessories including dog coats, car seat covers and travel bags to carry all the doggy bits and pieces that may be required on a trip. Cats aren't forgotten of course, and Danish Design cat beds such as the cat cosy are perfect for most feline friends. Cat play bags or tunnels are great fun and the cat cradle that can be hung near a radiator is the ultimate in cat luxury!
Dog and cat playtime is important of course, so Danish Design dog and cat toys are another important part of their selections – from tiny 5" toys to a 40" monkey, there's something to suit any size or breed of dog. Ultimately however, it's the Danish Design beds that are the mainstay of the business, and with constant product development, pet owners are sure to always find something that suits their favourite dog or cat.
RECOMMENDED CATEGORIES

Whilst new products are notoriously hard to bring to market, here we celebrate some companies that have been successful.
Visit the Pet Products category >>