Nina Ottosson Shops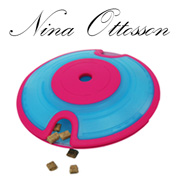 Originating in Sweden in the early 1990s, Nina Ottosson developed a superb range of dog activity toys which are distributed to pet owners all over the world. It wasnít long before the company saw an opening for products for other animals such as cats - and with ongoing product research, new items are added to the ranges every year.
Naturally the animals are rewarded by hidden treats each time they work out part of a puzzle or maze. Popular Nina Ottosson lines include the Dog Treat Maze, or the wooden version of Dog Brick that helps to train a dog to use its nose or paws to move objects around a board. The cleverly designed Dog Pyramids wobble when teased or played with, and the Dog Box encourages dogs to place special shapes into the correct slots.
High quality materials are used throughout the manufacturing process of all Nina Ottosson pet products, with the wood and plastic being fully recyclable. The company also helps pet owners by listing various tips and tricks on their website, as well as offering a club section for owners to exchange views and comments on aspects of dog training.
RECOMMENDED CATEGORIES

Whilst new products are notoriously hard to bring to market, here we celebrate some companies that have been successful.
Visit the Pet Products category >>