Charlies Parlour
No customer reviews yet. Be the first.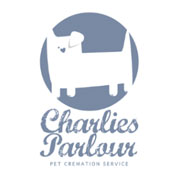 Address
Unit 2, Westdale Nurseries, Holt Road, Bradford on Avon, Wiltshire, BA15 1TS
Telephone
01225 869449
Contact
Send an email to Charlies Parlour now >>
About
Located in Bradford on Avon in Wiltshire, Charlies Parlour is a family run Approved Private Pet Cremation Service (APPCC). Your pet will be guaranteed an individual cremation and the whole of its uncontaminated remains will be returned to you within 48 hours. Pets can be collected from your home or your Veterinarian; alternatively you may prefer to bring your pet along to Charlies Parlour yourself.
You can find out more about Charlies Parlour by visiting their website. A cast can be taken of your pets paw or print and this can be given a bronzed effect finish and mounted on a hard wood plaque. This is a touching and lasting tribute to your pets' memory. It is important that pet owners are aware of the differences between the services offered by a veterinary practice and a private pet cremation service in order to make an informed decision about what will happen to their pet after its death.
Customers are advised to use an APPCC to ensure they get the quality of service that you and your pet deserve. Locally made solid wood caskets can also be purchased from this Wiltshire pet funeral service.
Find Charlies Parlour on these pages:

Location: Wiltshire
Categories: Pet Cremation & Burial Services