Pet Drugs Online
No customer reviews yet. Be the first.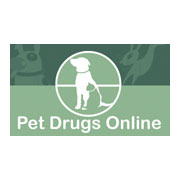 Address
5 The Dairy, Priston Mill, Priston, Bath, Somerset, BA2 9EQ
Telephone
0800 234 6742
Contact
Send an email to Pet Drugs Online now >>
About
Pet Drugs Online is located near Bath in Somerset. They are a licensed provider of veterinary medications, both prescription and non-prescription. Established in 2005 and run by a team of veterinary surgeons with over 30 years experience between them, their aim is simply to help their customers keep their pets healthy by supplying the best medicines and foods at the best prices.
If a pet has been prescribed a medicine by a vet, you don't have to buy this from their dispensary. You can request a prescription and then use this to purchase the medicine online. The big benefit is the saving you can make, as prices are normally considerably lower online. If your pet is on long-term medication it can really help to reign in the costs.
Pet Drugs Online stock a massive range of non-prescription items such as flea treatments, wormers, shampoos and joint support supplements from all the big name brands. These include Frontline Spot On, Drontal and Seraquin. Pet Drugs Online also stocks the lesser known brands, so if you have a personal favourite or there's a product that particularly suits your pet, you can access it easily.
This Bath pet medication business sells specialist pet foods from Royal Canin, Hills, Euknauba and IAMS. Each one is formulated for a specific breed or condition. Many of these are veterinary exclusive diets that can't be purchased from the supermarket. They can arrange home delivery which is especially useful for bags that can weigh up to 14kg. Whatever your pet's needs, Pet Drugs Online are on hand to keep your dog, cat, horse, rabbit or reptile fighting fit.
Find Pet Drugs Online on these pages:

Location: Bath
Categories: Medication