Fluffy Paws Pet Supplies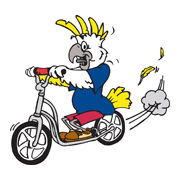 Address
58, Bucknell Road, Bicester, Oxfordshire, OX26 2DW
Telephone
01869 253639
Website
www.fluffypaws.com
About
As Bicesterís only independent pet shop Fluffy Paws offers its customers a great personal service in ensuring that they purchase the correct products and accessories for their pets. In stock is a wide range for all small domestic pets, reptiles and exotic animals with the opportunity of ordering any items that you may require specifically. Items normally in stock include pet food, live food, frozen food, pet toys, harnesses, hutches, bedding, grooming, substrates, heating and lighting accessories.
Fluffy Paws are specialists in Holistic food in conjunction with the manufacturers, whose training has been given to staff to ensure the provision of correct advice to the customers. Customers are welcome to either visit the shop in Bicester, or check out the website to see which products that are carried in stock. In addition, free home delivery is offered, with full details of terms on the shop website.
If customers have any queries in relation to any domestic pets, they should not hesitate to contact this Bicester shop, and every effort will be made to answer the questions – these may be in relation to your petís diet or any other services that other business friends of the shop can provide for you.
Find Fluffy Paws Pet Supplies on these pages:

Location: Bicester
Categories: General Pet Shops

---
Opening Times:
Monday: 09:00 - 13:00
Tuesday - Saturday: 09:00 - 17:30
---
Favourite licences
---
Additional facilities