Bicester Pet Professionals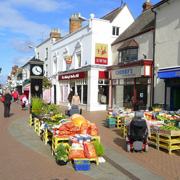 An important market town in Oxfordshire, Bicesterís historic town centre streets have an excellent selection of national and independent shops and businesses especially in the Market Square and Sheep Street areas. Thereís an impressive choice of Bicester pet shops and other pet professionals in the area that serve all of the regions huge army of pet lovers. If your favourite pet is a dog, cat, hamster, rabbit, tortoise or something more exotic, you should be able to find a pet outlet that can help you feed or care for it.
Independent pet shop specialists like Fluffy Paws can not only offer their customers a great choice of pet food and other products, but can also freely give their customers advice on all aspects of pet care. Pet Buddies will look after your dog and take it for a walk whilst you are out working, and Harts Vets can keep almost any small animal in tip top condition.
FEATURED BUSINESSES

An independent pet shop that supplies a huge choice of pet products including food.
Read more about Fluffy Paws Pet Supplies >>
OTHER BUSINESSES
Alchester Stables

Elm Tree Farm, Wendlebury, Bicester, Oxfordshire, OX25 2QA
07764 489600
Hart Vets

Browning Drive, Bicester, Oxfordshire, OX26 2XL
01869 323223
Pet Buddies

80 Blenheim Drive, Bicester, Oxfordshire, OX26 2NQ
07504 079358
Poffins Pet Bereavement Products

1 Walpole Close, Bicester, Oxfordshire, OX26 2YF
01869 244010
Valu-Direct Pet Supplies

Ardley Road, Somerton, Bicester, Oxfordshire, OX25 6NN
01869 346975