Free Delivery on Pet Products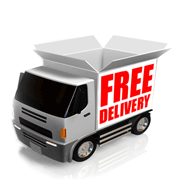 Because so many pet products are relatively small and lightweight, it can be frustrating to be charged high postage costs when you reach the checkout. For this reason, we've listed below a number of pet product providers who offer free delivery on some or all of their orders.

An independent pet shop that supplies a huge choice of pet products including food.
Find out more about Fluffy Paws Pet Supplies >>

A new range of natural supplements for dogs and cats
Find out more about Pure and Wholesome >>