Bliss Bedding
No customer reviews yet. Be the first.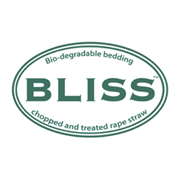 Address
Yew Tree Farm, Wetton, Ashbourne, Derbyshire, DE6 2AF
Telephone
01335 310202
Contact
Send an email to Bliss Bedding now >>
About
Bliss Bedding is manufactured near Ashbourne in Derbyshire. The company is a family run business that prides itself on good customer service. The product is a premium quality, finely chopped and dust extracted rape straw bedding for horses thatís treated with a bittering agent and Trus-STEED Stableguard.
The bedding is highly absorbent as well as being easy to handle and maintain, and is available in Basic, Citronella or Eucalyptus varieties. Bliss Citronella helps to deter flying insects from the stable environment whilst Bliss Eucalyptus is a natural decongestant and antiseptic which is particularly beneficial to horses with respiratory ailments. The essential oils in both Citronella and Eucalyptus help to maintain a fresh and pleasant stable environment.
Bliss Basic is the same premium quality bedding just without the added essential oils. All varieties are biodegradable and rot down on the muck heap in approximately six months. Packaged in 20kg bales using recyclable plastic, all of the straw used is UK sourced.
Find Bliss Bedding on these pages:

Location: Derbyshire
Categories: Equine pet shops