Derbyshire Pet Shops and Services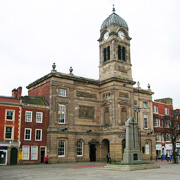 Narrow your results: browse for in Derbyshire towns:
Chesterfield.
With a large area of the Peak District National Park lying within Derbyshire, the area is a haven for walkers, especially when accompanied by a pet hound or two. Several large towns in the south of the county include Derby, Chesterfield, Swadlincote and Matlock that all have an excellent choice of pet shops, vets, kennels and other pet services. Popular examples include Enigma Exotics for live reptiles and food, or Phoenix Pet Foods for a great selection of nourishing meals and treats.
Boarding kennels and catteries, vets, breeders, pet sitters and grooming parlours all feature in Derbyshire's mix of pet businesses. These help to care for pets, as well as supplying all the food and pet accessories needed in such a pet populated area. From hamsters to rabbits and poodles to labradors, whatever pet you own, a Derbyshire pet professional can help with your requirements.
POPULAR BUSINESSES
Yew Tree Farm, Wetton, Ashbourne, Derbyshire, DE6 2AF
01335 310202
78-82, Bath Street, Ilkeston, Derbyshire, DE7 8FE
0115 9328646
10, Western Avenue, Swannick, DE55 1DA
0843 707 5032
2 Markham Quay, Chesterfield, Derbyshire, S41 0FT
07415 627204
OTHER BUSINESSES
Allestree Pet Supplies

39 Park Farm Centre, Derby, Derbyshire, DE22 2QQ
01332 553047
Ashfield House Veterinary Surgery

5 Hall Dyke, Derby, Derbyshire, DE21 7LF
01332 666086
CML Aquatics Pets & Gardens

2 Cavendish Street, Chesterfield, Derbyshire, S40 1UY
07413 403988
Enigma Exotics

6-8 Station Road, Chesterfield, Derbyshire, S41 9AQ
01246 767556
Enigma Exotics

6-8 Station Road, Chesterfield, Derbyshire,
01246 767556
Hasland Pet Supplies

2 Mansfield Road, Chesterfield, Derbyshire, S41 0JA
01246 236595
Hoofs Paws & Claws

295 Hasland Road, Chesterfield, Derbyshire, S41 0AA
01246 229777
Jo's Pet Palace

11 Church Street, Staveley, Chesterfield, Derbyshire, S43 4ER
01246 477878
Laharn Cattery

2 Postmans Lane, Chesterfield, Derbyshire, S42 5DS
01246 381007
Merrilees Boarding Kennels

Cadley Hill Road, Swadlincote, Derbyshire, DE11 9EQ
01283 550096
Nose 2 Tail

1 Bakewell Road, Matlock, Derbyshire, DE4 3AU
01629 55234
Pet N Pamper Grooming Parlour

45 Burnthouse Road, Heanor, Derbyshire, DE75 7GS
01773 718531
Pets Choice

29-31 Derby Road, Heanor, Derbyshire, DE75 7QG
01773 716303
Phoenix Pet Foods

Unit 12, Rinkway Industrial Estate, Swadlincote, Derbyshire, DE11 8JL
01283 550361
Star Grooming

6 Poplar Drive, Chesterfield, Derbyshire, S44 5LB
07975 740914
Supapet Tropicana

853 Osmaston Road, Derby, Derbyshire, DE24 9BR
01332 349841
The Charlesworth Veterinary Centre

55-59 Broadleys, Clay Cross, Chesterfield, Derbyshire, S45 9JN
01246 383301
Tree Tops Kennels & Cattery

Tree Tops, Derby Road, Derby, Derbyshire, DE21 5BD
01332 880607