Chesterfield Pet Shops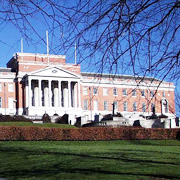 Housing a great mix of independent and multiple shops spread between the ancient town and modern developments, Chesterfield in Derbyshire is a shopping magnet for the region.
Pets and their owners are well looked after by a variety of pet businesses such as Hasland Pet Supplies in Mansfield Road where they offer a great selection of pet food and accessories. Auriel Roe (trading as Pastel Pet Portraits) is based in the town, and draws wonderful pet pictures working from a selection of high quality images.
Owners of snakes and reptiles make for Enigma Exotics in Station Road where there's a terrific choice of live animals as well as heating, lighting and cages on display. Horse lovers can obtain most of their supplies from Hoofs Paws and Claws in Hasland Road, whilst Star Grooming in Poplar Drive offers a great 'wash and brush up' service for both cats and dogs.
The Charlesworth Veterinary Centre in Clay Cross is a small animal specialist, and can treat most pet ailments as well as injuries resulting from accidents.
POPULAR BUSINESSES
2 Markham Quay, Chesterfield, Derbyshire, S41 0FT
07415 627204
OTHER BUSINESSES
CML Aquatics Pets & Gardens

2 Cavendish Street, Chesterfield, Derbyshire, S40 1UY
07413 403988
Enigma Exotics

6-8 Station Road, Chesterfield, Derbyshire,
01246 767556
Hasland Pet Supplies

2 Mansfield Road, Chesterfield, Derbyshire, S41 0JA
01246 236595
Hoofs Paws & Claws

295 Hasland Road, Chesterfield, Derbyshire, S41 0AA
01246 229777
Laharn Cattery

2 Postmans Lane, Chesterfield, Derbyshire, S42 5DS
01246 381007
Star Grooming

6 Poplar Drive, Chesterfield, Derbyshire, S44 5LB
07975 740914
The Charlesworth Veterinary Centre

55-59 Broadleys, Clay Cross, Chesterfield, Derbyshire, S45 9JN
01246 383301