PBS Pet Travel
No customer reviews yet. Be the first.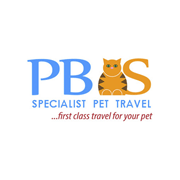 Address
PBS House, Charlwood Road, Lowfield Heath, Crawley, West Sussex, RH11 0PT
Telephone
01293 551140
Contact
Send an email to PBS Pet Travel now >>
About
PBS Pet Travel is a specialist pet relocation services, facilitating pet travel both within the UK and overseas. Based near Crawley beside Gatwick airport, PBS has been shipping family pets around the world for decades. The company regularly ships cats and dogs as well as an assortment of other more exotic animals.
Utilizing international airlines, specialist pet courier van services and even (when requested) private jets, PBS have the knowledge and experience to safely transport your pet. Full services are provided including free advice, vaccinations with complete paperwork, flight bookings and liaising with customs. They can also arrange veterinary visits as required and ensure that your pet is safely and securely housed in an airline-approved pet carrier before take-off.
No matter what your level of experience, or where you are looking to transport your pets, PBS Pet Travel has the knowledge and experience to ensure your pet arrives safely at his or her destination. Free no-obligation quotes are available on request.
Find PBS Pet Travel on these pages:

Location: Crawley
Categories: Transport For Pets