Crawley Pet Professionals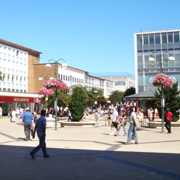 Probably best known for its proximity to London Gatwick airport, Crawley is a large town in West Sussex. With such a big pet loving population, the area has a terrific choice of different pet professionals to supply and care for the regions pets.
The Sussex Pet Centre situated in Squires Garden Centre not only supplies children with pet hamsters, guinea pigs or budgies, but also sells a great selection of pet food and pet accessories.
There are plenty of Crawley pet boarding homes to choose from if you're flying off on holiday. These include Ifield Park Cattery & Kennels and Gatwick Kennels and Cattery. Crawley also has a great choice of vets like Crawley Veterinary Clinic to help to keep your favourite pet animals in tip-top condition. If you're looking for Crawley dog breeders, pet societies, training classes or dog walking services, you should be able to find them here.
POPULAR BUSINESSES
PBS House, Charlwood Road, Lowfield Heath, Crawley, West Sussex, RH11 0PT
01293 551140
Squires Garden Centre, Horsham Road, Crawley, West Sussex, RH11 8PL
01293 549458
OTHER BUSINESSES
Crawley Veterinary Clinic

2 Forester Road, Crawley, West Sussex, RH10 6EQ
01293 539898
Gatwick Kennels & Cattery

Poles Lane, Crawley, West Sussex, RH11 0PY
01293 546546
Ifield Park Cattery & Kennels

Bonnetts Lane, Crawley, West Sussex, RH11 0NY
01293 222860
Julie's Pet Supplies

3c Station Road, Crawley, West Sussex, RH10 4HZ
01342 718113
K9 Kuts

10 Buckley Place, Crawley, West Sussex, RH10 4JG
01342 776899
The Pet Shop

10 Langley Parade, Crawley, West Sussex, RH11 7RS
01293 520883