Dog Gone Pain
No customer reviews yet. Be the first.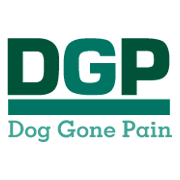 Address
Unit 4H, Bramhall Moor Technology Park, Pepper Road, Hazel Grove, Stockport, Cheshire, SK7 5BW
Telephone
0844 414 3122
Contact
Send an email to Dog Gone Pain now >>
About
Based in Stockport, Cheshire, Dog Gone Pain is an online business that sells DGP. This product is ideal for any dog showing signs of becoming slower during walks, struggling to get up after resting or even experiencing difficulty jumping into the car or onto the sofa.
DGP has been sold in the USA for over ten years and is one of the leading joint supplements on the market. Itís having the same success in the UK. Customer testimonials speak for themselves, and as the product works very quickly, a ten day trial pack is usually enough to see positive results.
Dog Gone Pain is safe for the long term and ideal for those worried about various side effects from using prescription drugs. Joint pain and arthritis affects many dogs, not just old ones, and is very painful for them and for their owners to watch them suffer. With all natural ingredients and anti-inflammatory properties it works quickly as existing customers can attest to.
Find Dog Gone Pain on these pages:

Location: Stockport
Categories: Alternative Therapies