Charlie & Derek's Dog Treats
No customer reviews yet. Be the first.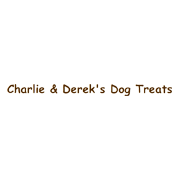 Address
29 Heron Drive, Poynton, Stockport, Cheshire, SK12 1QR
Telephone
01625 859146
Website
www.charlieandderekdogtreats.co.uk
About
Charlie & Derek's Treats are homemade in Cheshire from wholesome human grade ingredients, including fresh Parmesan cheese, brisket, free range eggs and extra virgin olive oil.
Much care and attention has been given to the creation of each healthy treat. There is no added salt or any other ingredients that would upset a doggy tummy. There is even a small range of wheat-free treats developed due to customer demand.
All treats are tested on Charlie & Derek - two English Toy Terriers - who take their important job very seriously. Sometimes Charlie comes along to the local farmers markets where Charlie & Derek's Treats have built up quite a following. The products are also available in local pet shops and even a dog-friendly pub.
There are currently 10 different treats in the range. They are packaged simply but beautifully - and make a fantastic gift at any time of the year. Hampers are also available for a special occasion - and of course you can expect speedy delivery on all orders.
Find Charlie & Derek's Dog Treats on these pages:

Location: Stockport
Categories: Pet Food