Warrington Pets & Exotics
No customer reviews yet. Be the first.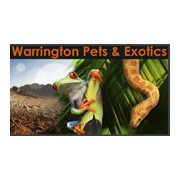 Address
150 Lovely Lane, Warrington, Cheshire, WA5 1PH
Telephone
01925 574307
About
Located in the heart of Warrington in Cheshire, Warrington Pets & Exotics has a fantastic selection of animals to suit almost anyone. Whilst their selection of rabbits, mice and hamsters are sure to appeal to most small children, itís their choice of exotic pets that makes this the areaís destination store for reptiles, snakes and amphibians.
As a responsible seller of so many different types of creatures and birds, Warrington Pets & Exotics ensures their staff are fully up to date with the latest advice for potential owners. This can extend to suitability, feeding requirements and above all, safe and secure accommodation. The shop sells breeding boxes, terrariums, incubators and cages as well as lighting and heating units. Most of these accessories are also available to buy through their comprehensive website.
The stock varies according to seasons and availability, although they strive to keep most animals in stock at all times. Try them for lizards, pythons, amphibians, snakes and tortoises as well as a great selection of live and frozen food. Accessories like artificial rain systems, misters, foggers and waterfalls are essentials for many exotic species and this store keeps an excellent selection to suit all budgets.
Find Warrington Pets & Exotics on these pages:

Location: Warrington
Categories: Reptiles