Warrington Pet Shops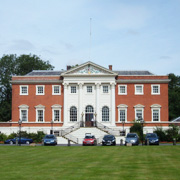 Warrington on Cheshire's northern boundary is a large thriving town with a superb selection of both independent and multiple retailers' shops. The Golden Square and Cockhedge Shopping Centres are popular retail destinations for locals and visitors with many shops located in-between. The Dogs Pad Boarding Kennels in Higher Knutsford Road is just one of many kennels and catteries that operate in Warrington, catering for short and long term stays.
If you need a vet there's also a great choice. Culcheth Veterinary Surgery in Warrington Road is able to deal with almost all small animal ailments and also offers dietary advice. Warrington Pets & Exotics in Lovely Lane and Leeroys Lizard Lounge in Padgate Street cater for the growing popularity of owing reptiles. Both shops sell live animals and all the food and accessories needed to keep them healthy and well.
POPULAR BUSINESSES
150 Lovely Lane, Warrington, Cheshire, WA5 1PH
01925 574307
OTHER BUSINESSES
Culcheth Veterinary Surgery

487 Warrington Road, Warrington, Cheshire, WA3 5QU
01925 764088
Leeroys Lizard Lounge

154 Padgate Street, Warrington, Cheshire, WA1 3SP
01925 259008
Poachers Pets & Aquatics

23 Poachers Lane, Warrington, Cheshire, WA4 1TP
01925 659237
Spoodles Pet Grooming Salon

21 Farnworth Road, Warrington, Cheshire, WA5 2RZ
07988 613075
The Dogs Pad Boarding Kennels

Higher Knutsford Road, Warrington, Cheshire, WA4 3JY
01925 267134
The Pet Centre

7 Retail Market, Bank Street, Warrington, Cheshire, WA1 2EN
01925 631616