Widnes Pet Shops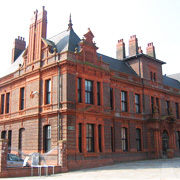 Located on the northern bank of the River Mersey, Widnes in Cheshire is an industrial town with a modern shopping area. The Greenoaks Centre and Widnes Shopping Park are both home to prominent multiple retailers, with various pet businesses located all around the town.
Pet accessory suppliers like Queens Avenue Pets and Noahs Ark Pet Supplies both sell a huge variety of pet products including several popular brands of dog and cat food. Trading online only, Pet Store 365 has their base in the town from where they service customers all over the country.
If you need a vet there's a good choice in Widnes with Andale Veterinary Centre in Ditchfield Road being just one example. Clockface Kennels in Finger House Lane offer flexibility to their client's dogs with stays of almost any duration. Snakes, reptiles and spiders can all be found for sale at The Reptile World in Gladstone Street. They also sell appropriate food and accessories such as cages and heating units.
POPULAR BUSINESSES
Online Only, Widnes, Cheshire, WA8 6HR
07788 268668
OTHER BUSINESSES
Andale Veterinary Centre

Ditchfield Road, Widnes, Cheshire, WA8 8RF
0151 423 1388
Clockface Kennels

The Cottage, Finger House Lane, Widnes, Cheshire, WA8 3XE
01744 411788
Landoncraft Pet Foods

20 Nazareth House, Widnes, Cheshire, WA8 8UE
0151 420 5972
Noahs Ark Pet Supplies

Widnes Market Hall, Bradley Way, Widnes, Cheshire, WA8 6UE
0151 423 5205
Queens Avenue Pets

29 Queens Avenue, Widnes, Cheshire, WA8 8HR
0151 420 4566
The Reptile World

2 Gladstone Street, Widnes, Cheshire, WA8 6PH
0151 424 3737