West Sussex Pet Professionals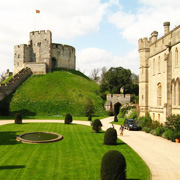 Narrow your results: browse for in West Sussex towns:
Chichester, Crawley, Horsham, Worthing.
Apart from a great selection of stately homes and castles (as well as Gatwick airport!) West Sussex has a terrific choice of pet shops and pet-related businesses all over the county. Several important towns like Worthing, Chichester, Horsham, Crawley and Bognor Regis all have large shopping centres with pet shops, vets, breeders, animal trainers and grooming parlours.
The RSPCA have their headquarters in West Sussex from where they administer their online pet insurance schemes. A small selection of West Sussex pet shops includes Darwin's in Pulborough that stocks a comprehensive selection of pet food and accessories, whilst Worthing has Zebedee's Pet Supplies packed floor to ceiling with great ranges for most small animals. Vet surgeries can be found in almost every West Sussex town as well as pet breeders and places to board your animals when on holiday.
POPULAR BUSINESSES
Flagons, Loxwood Road, Rudgwick, Horsham, West Sussex, RH12 3JW
07899 938422
Tanglewood House, Pease Pottage, Horsham, West Sussex, RH11 9AJ
0800 3777160
67 Rose Green Road, Aldwick, West Sussex, PO21 3EH
0771 574 9450
Nova House, Edward Way, Victoria Business Park, Burgess Hill, West Sussex, RH15 9UA
01444 831500
PBS House, Charlwood Road, Lowfield Heath, Crawley, West Sussex, RH11 0PT
01293 551140
Kings House, 68 Victoria Road, Burgess Hill, West Sussex, RH15 9LH
0845 803 3919
199 Ham Road, Worthing, West Sussex, BN11 2QB
07778 251942
Greenfields Farm, Fontwell Avenue, Eastergate, Chichester, West Sussex, PO20 3RU
01243 542815
Chartwell House, Chartwell Road, Lancing, Worthing, West Sussex, BN15 8TY
01903 761222
Squires Garden Centre, Horsham Road, Crawley, West Sussex, RH11 8PL
01293 549458
OTHER BUSINESSES
Catz Boarding Cattery

Langhurst Cottage, Langhurst Wood Road, Horsham, West Sussex, RH12 4QD
01403 262758
Chichester Cattery

Dykehurst, West Stoke Road, Chichester, West Sussex, PO19 3PL
01243 536959
Crawley Veterinary Clinic

2 Forester Road, Crawley, West Sussex, RH10 6EQ
01293 539898
Crossways Veterinary Surgery

21 Bartholomew Way, Horsham, West Sussex, RH12 5JL
01403 264667
Darwin's

81b, Lower Street, Pulborough, West Sussex, RH20 2BP
01798 873674
Dinky Dogs Grooming

30 Alexandra Road, Worthing, West Sussex, BN11 2DU
07765 589493
Downland Veterinary Group

2 Stirling Road, Chichester, West Sussex, PO19 7DJ
01243 786101
Gatwick Kennels & Cattery

Poles Lane, Crawley, West Sussex, RH11 0PY
01293 546546
Grooming Marvellous

129A Crawley Road, Horsham, West Sussex, RH12 4DX
01403 332052
Hammerpond Kennels

Plummers Plain, Hammerpond Road, Horsham, West Sussex, RH13 6PE
01403 332121
Ifield Park Cattery & Kennels

Bonnetts Lane, Crawley, West Sussex, RH11 0NY
01293 222860
John Hall Pet Supplies

158 Findon Road, Worthing, West Sussex, BN14 0EL
01903 262544
Julie's Pet Supplies

3c Station Road, Crawley, West Sussex, RH10 4HZ
01342 718113
K9 Kuts

10 Buckley Place, Crawley, West Sussex, RH10 4JG
01342 776899
Locksacre Aquatics

Locksacre Farm, Wophams Lane, Chichester, West Sussex, PO20 7BS
01243 512472
Northdale Veterinary Practise

48 Victoria Road, Worthing, West Sussex, BN11 1XE
01903 202474
PamPurred Pets

30a Southgate, Chichester, West Sussex, 01243 839398
PamPurred Pets

2-6 Buckingham Road, Worthing, West Sussex, BN11 1TH
01903 230952
Pet Sitting Services

20 Anson Road, Worthing, West Sussex, BN12 6JB
01903 536938
Pets Corner

Units 10-11, Pines Place, Horsham, West Sussex, RH12 1NY
01403 332306
Spectaviour Labrador Retrievers

Summer Cottage Kennels, 38 Chalk Lane, Chichester, West Sussex, PO20 7LW
01243 641855
Sussex Koi

Wagtails, Church Lane, Chichester, Wes, PO20 3XD
01243 543874
Sussex Petsitters and Dog Walkers

Park Farm, Park Lane, Chichester, West Sussex, PO20 3TL
01243 697202
Tharfield Kennels and Cattery

Main Road, Fishbourne, Chichester, West Sussex, PO18 8AX
01243 572246
The Pet Emporium

12 Broadwater Street West, Worthing, West Sussex, BN14 9DA
01903 202081
The Pet Shop

10 Langley Parade, Crawley, West Sussex, RH11 7RS
01293 520883
The Pet Shop

117 Rowlands Road, Worthing, West Sussex, BN11 3LA
01903 218388
Tim's Pet & Exotics Boarding

Willows, Pondtail Drive, Horsham, West Sussex, RH12 5HY
07414 119873
Unleashed Dog Day Care

32A Teville Road, Worthing, West Sussex, BN11 1UG
01903 252881
Zebedee's Pet Supplies

137 South Farm Road, Worthing, West Sussex, BN14 7AX
01903 200008