Nottinghamshire Pet Professionals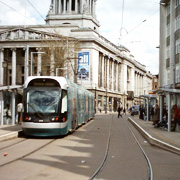 Narrow your results: browse for in Nottinghamshire towns:
Mansfield, Nottingham.
As the fifteenth most populated county in the UK, itís no surprise that Nottinghamshire has more than its fair share of pet businesses. These cater for the needs of the smallest mouse or hamster to the largest dog or horse. A Fond Farwell in Retford produces an excellent selection of British-made bio-degradable coffins when the time has come to lay your beloved pet to rest. These can be shipped anywhere in the UK.
If your dog or horse needs a warm winter coat, those supplied by Harpley Equestrian in Gedling could be the perfect solution. They even make versions using magnetic therapy to ease aching joints in older animals.
The ever increasing popularity of keeping reptiles and other exotic species sees an expansion of outlets selling live animals, as well as the equipment and food thatís needed to keep them alive. Medusa Exotics in the Carlton area of Nottingham and L ĎNí D Exotics in Mansfield are just two examples of local pet shops that cater for this growing part of the industry. If you own a small traditional animal like a rabbit, hamster or cat, Pet Care in Retford or Pets Paradise in Basford can probably supply a perfect range of food, treats and accessories.
POPULAR BUSINESSES
8 Field Close, Gedling, Nottingham, NG4 4DE
0115 9611537
57 Westgate, Mansfield, Nottinghamshire, NG18 1RU
01623 622370
Highland Close, Mansfield Woodhouse, Mansfield, Nottinghamshire, NG19 9BN
01623 431391
OTHER BUSINESSES
Ace Pets Boutique

11 Handley Arcade, Mansfield, Nottinghamshire, NG18 1NQ
01623 661042
Baulker Lane Boarding Kennels

Baulker Lane, Clipstone, Maidstone, Nottinghamshire, NG21 9BG
01623 626672
Cedars Veterinary Centre

20 High Street, Mansfield, Nottinghamshire, NG20 0AG
01623 846671
Cefni German Shepherd Rescue

33 Howard Road, Mansfield, Nottinghamshire, NG19 6AX
01623 624068
Forest Veterinary Centre

10-12 Gregory Boulevard, Nottingham, Nottinghamshire, NG7 6BG
0115 822 3529
Jessies Grooming Parlour

30 Dellway, Nottingham, Nottinghamshire, NG11 8AH
0115 914 1024
Kennelgate Pet Food Superstores

Unit J, Fulmar Close, Mansfield, Nottinghamshire, NG19 0GG
01623 650233
L 'N' D Exotics

Unit 1, Woodhouse Station Enterprise, Mansfield, Nottinghamshire, NG19 9NZ
01623 431939
L 'N' D Exotics

Nursery Street, Mansfield, Nottinghamshire, NG18 2AG
01623 700801
Maxis Pampered Paws

67 Beck Crescent, Mansfield, Nottinghamshire, NG19 6SP
07512 364306
Medusa Exotics

6 Westdale Lane, Carlton, Nottingham, Nottinghamshire, NG4 3JA
0115 856 5072
Pet Care

6 Spa Lane, Retford, Nottinghamshire, DN22 6EA
01777 703123
Pet Treats

254-255 Victoria Market, Nottingham, Nottinghamshire, NG1 3PS
0115 837 0158
Pets Paradise

24 Southwark Street, Basford, Nottingham, Nottinghamshire, NG6 0DA
0115 970 2538
Petscene

19 Regent Street, Mansfield, Nottinghamshire, NG18 1ST
01623 645450
Premarket Pet Products

257 Moor Road, Papplewick, Nottingham, Nottinghamshire, NG15 8EP
0115 968 0030
Top Pets

7 Jubilee Buildings, Forest Street, Sutton-In-Ashfield, Nottinghamshire, NG17 1DE
01623 554325