CJs Pets
No customer reviews yet. Be the first.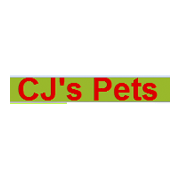 Address
445 Bolton Road, Pendlebury, Salford, Manchester, M27 8TD
Telephone
0161 794 0364
Contact
Send an email to CJs Pets now >>
About
CJ's Pets is a family-run pet shop in the middle of Salford on the outskirts of Manchester. Situated on the busy Salford - Bolton road, it sells all types of pets including rabbits, guinea pigs, bearded dragons, gekos and corn snakes. They also have a selection of tropical and cold water fish as well as amphibians.
All types of food and accessories are available either in store or to order. CJ's Pets also offer free delivery in the Salford area when you spend over low minimum amount. Free parking is available nearby, and phone orders are always welcome. Live food is available to order, and frozen reptile food is always available.
This Salford pet shop is proud to stock Burns holistic dog and cat foods, and offers dietary advice to all its customers. If you have a pet with allergies or a hyperactive dog just ask for help, or check out their website that can give you details of services and prices. CJ's Pets are members of the Pet Care Trade Association (PCTA) and are proud of their high standards of welfare.
Find CJs Pets on these pages:

Location: Manchester
Categories: General Pet Shops