ByoFresh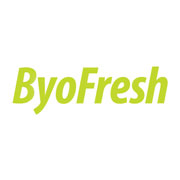 Address
Riverside Works, Collyhurst Road, Manchester, M40 7RU
Telephone
0871 237 4090
Contact
Send an email to ByoFresh now >>
About
ByoFresh is a Manchester based pet shop selling cleaning products that offer pet owners a range of items that give a real solution to pet odour problems. All of the products contain a unique active ingredient known as Byotrol. This is anti-bacterial and anti-fungal to European standards - and unlike other disinfectants it is safe to use on animals. It has the added bonus that it keeps working even when dry.
When you kill the bacteria either in the animals coat or its habitat you will eliminate the nasty odours, creating a healthy environment. One of the most common problems for dog owners is having to clean them after they have rolled in something nasty. ByoFresh pet cleaning products are so effective they even say on the packaging: "Effective against fox poop"!
Three different ranges of ByoFresh are available from this Manchester pet business, each focussing on a different group of animals. This covers dogs, cats and small animals in a variety of wipes, sprays and shampoos. All of these products are alcohol-free, non toxic and environmentally safe.
Find ByoFresh on these pages:

Location: Manchester
Categories: Pet Products