Glasgow Pet Shops and Services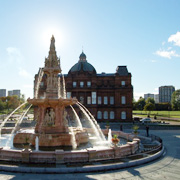 Whilst you would expect a city the size of Glasgow to have a large number of pet shops, there is a particularly big concentration of them within the main central areas and beyond. This means that the residents are Glasgow really are spoilt for choice when looking to buy pet food, accessories - or the animals themselves.
Classical Pets in Dumbarton Road and Acorn Pet Centre in Pollokshaws Road are just two examples of specialist Glasgow pet businesses. Tropical and freshwater fish seem to be particularly popular in Glasgow - with specialist pet shops all over the city providing aquatic supplies. This includes Murray Aquatics, The Aquarium and Aquatic Life.
Those looking for reptiles, small animals, birds or pet food will not be disappointed however, as every major district has at least one pet shop to cater for their needs. Pet owners without enough time can employ the services of Furry Friends Pet Care. They offer an excellent walking and sitting service in the Cullen, Buckie and Moray areas.
POPULAR BUSINESSES
1 Stonelaw Towers, Glasgow, G73 3RL
07709 394667
25 Eaglesham Road, Clarkston, Glasgow, G76 7DH
0141 644 5030
Unit 13, 3 Campsie Road, Glasgow, G66 1SL
0141 374 2306
1 Seafield Farm Cottages, Cullen, Buckie, AB56 4SQ
0771 563 3927
Unit 48a, Anniesland Business Park, Netherton Road, Glasgow, G13 1EU
0141 950 4631
Woodlands Road, Glasgow, G3
0141 575 1001
3 Wilson Street, Glassford Court, Glasgow, G1 1UZ
07903 301121
OTHER BUSINESSES
Acorn Pet Centre

992 Pollokshaws Road, Glasgow, G41 2HA
0141 632 0098
Animal Magic

111 Main Street, Baillieston, Glasgow, G69 6AA
0141 771 6849
Aquapac

The Quadrangle, 59 Ruchill Street, Glasgow, G20 9PX
0141 945 2888
Aquatic Life

329 Victoria Road, Glasgow, G42 7SA
0141 433 9126
Bishopbriggs Pet & Aquatic Centre

102 Crowhill Road, Bishopbriggs, Glasgow, G64 1RP
0141 772 0001
Classical Pets

1251 Dumbarton Road, Glasgow, G14 9UU
0141 950 2143
Fur 'n' Feathers

82 Bowman Street, Glasgow, G42 8LF
0141 424 3770
Hay Thomas

2 Osborne Street, Glasgow, G1 5QN
0141 552 3170
J S Pets

47 Queen Street, Rutherglen, Glasgow, G73 1JP
0141 613 1117
M & R Dog Fish

466 Paisley Road West, Glasgow, G51 1PX
0141 427 3615
Murray Aquatics

Kingston Bridge Trading Estate, 32 Houston Street, Glasgow, G5 8RS
0141 420 1020
Mutley & Mog

Unit 48a, Anniesland Business Park, Netherton Road, Glasgow, G13 1EU
0141 950 4631
Pets Paraphernalia

Savoy Centre, 140 Sauchiehall Street, Glasgow, G2 3DH
0141 331 2847
Southside Pets

2242 Paisley Road West, Glasgow, G52 3SJ
0141 892 2283
The Aquarium

19 Chisholm Street, Glasgow, G1 5HA
0141 552 8363
The Pet Stop

2A Fernleigh Road, Glasgow, G43 2UE
0141 633 1155
Wagtail Pet Supplies

7 Muirhead Street, Kirkintilloch, Glasgow, G66 3BE
0141 775 0501