Cani-Fit
No customer reviews yet. Be the first.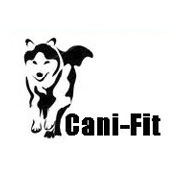 Address
1 Stonelaw Towers, Glasgow, G73 3RL
Telephone
07709 394667
Contact
Send an email to Cani-Fit now >>
About
Based in Glasgow, Cani-Fit is the premier fitness service for dogs in Scotland. Their various programmes provide an exercise routine for both the dog and the owner. By using a variety of new and different sports, dogs are taught how to get fit, work, and have fun at the same time.
Cani-Fit is a one-stop-shop for advice on fitness training, help with training dogs and also with using specialist equipment such as Canicross belts, harnesses, dog scooters and much more. Founded by Lindsay and her Alaskan Malamute named Suko, they've both conquered long distances such as the West Highland Way, as well as winning gold at sled dog rallies. Lindsay and Suko have also run with packs of dogs and owners up and down the country.
Lindsay has trained in Canada with sled dogs, learning the old fashioned 'mushing' ways. Through these experiences and knowledge picked up, she has designed training methods to suit the working breeds that are also people's beloved pets.
Find Cani-Fit on these pages:

Location: Glasgow
Categories: Training & Behaviour Businesses