County Durham Pet Shops and Services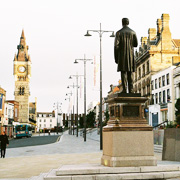 Narrow your results: browse for in County Durham towns:
Darlington, Durham, Stockton-on-Tees.
County Durham in North East England is an important tourist area, containing the two large towns of Darlington and Durham. Like the rest of the UK, the region has a large proportion of pet lovers, and these are well serviced by a great choice of County Durham pet professionals. These include plenty of individual pet shops, many of which sell small animals like rabbits or hamsters. Others focus on pet services like pet food, cages, bedding, collars and pet toys.
Holiday time can often pose problems for pet owners, but businesses like Born 2 Run can offer a range of dog walking or animal care services. County Durham also has a good selection of vets such as Grange Veterinary Surgery in Stockton-On-Tees. Pet owners can also locate plenty of small animal breeders, catteries, kennels, pet artists and other pet societies such as Skerndale Dog Training Club in Darlington.
POPULAR BUSINESSES
65 Alder Park, Brandon, Durham, County Durham, DH7 8TJ
07786 880786
6 Bridgegate, Barnard Castle, County Durham, DL12 8QF
07581 866062
6 Railway Terrace, Hurworth Place, Darlington, County Durham, DL2 2DD
07513438361
6 Ellington Close, Ouston, Chester-le-Street, County Durham, DH2 1UD
0191 4102325
6 Owls Grove, Stockton-on-Tees, County Durham, TS17 5HH
01642 308901
16, Greenmount Road, Darlington, County Durham, DL3 8EP
01325 240560
9 Northumberland Street, Darlington, DL3 7HJ
01325 787374
Easson road, Darlington, County Durham, DL3 6BA
07944 089392
The Dog House, Rogerson Terrace, Croxdale, Durham, County Durham, DH6 5HJ
01388 417 621
OTHER BUSINESSES
Abbey Veterinary Centre

Dunleigh House, Newcastle Road, Durham, County Durham, DH1 4HZ
0191 384 5115
Abbey Veterinary Centre

Dunleigh House, Newcastle Road, Durham, County Durham, DH1 4HZ
0191 384 5115
Blue Acres Boarding Kennels & Cattery

East Pasture Farm, Durham, County Durham, DH6 4EL
0191 377 3979
Bugs 'N' Stuff

5 Ramsgate, Stockton-on-Tees, County Durham, TS18 1BS
01642 616823
Chester Pet Stores

124 North Road, Darlington, County Durham, DL1 2EJ
01325 524399
Cleveland Canine's Creche

Unit5, Clayton Court, Bowesfield Crescent, Stockton-on-Tees, County Durham, TS18 3QX
01642 670404
Coast to Coast Exotics

124 North Road, Darlington, County Durham, DL1 2EJ
01325 283756
Cockerton Pets

30 Cockerton Green, Darlington, County Durham, DL3 9EU
01325 488944
Feedall

4 Douglas Close, Preston Farm Industrial Estate, Stockton-on-Tees, County Durham, TS18 3SB
01642 606255
Grange Veterinary Surgery

388 Norton Road, Stockton-on-Tees, County Durham, TS20 2QL
01642 360307
Grange Vets

Victoria Road, Darlington, County Durham, DL1 5SJ
01325 521216
Hammonds Animal Feed

Low Row Farm, Mazine Terrace, Durham, County Durham, DH6 2EX
07920 259086
Head To Paw

77 Canterbury Road, Durham, County Durham, DH1 5QY
0191 300 7226
Marie's Pet Care Services

21 Blackburn Close, Bear Park, Durham, County Durham, DH7 7TQ
07854 079934
Norton Aquatics & Pets

400 Norton Road, Stockton-on-Tees, County Durham, TS20 2QL
01642 551604
Portrey Kennels

High Cold Knott, Crook, County Durham, Dl15 9QF
01388 763173
Seymour Aquatics

373a Thornaby Road, Stockton-on-Tees, County Durham, TS17 8QW
01642 613500
Skerndale Dog Training Club

12 Regal Drive, Darlington, County Durham, DL1 3EX
01325 358726
Sunningdale Pets

Unit 17, Sunningdale Drive, Stockton-on-Tees, County Durham, TS16 9JP
01642 786000
The Dunelm Veterinary Group

106 Gilesgate, Durham, County Durham, DH1 1JA
0191 384 7609
Tracey's Pet Shop

29a, Commercial Street, Durham, County Durham, DH7 8PL
0191 3789084
Wheatley Hill Pet & Corn Store

7 Front Street, Durham, County Durham, DH6 3NJ
01429 820331